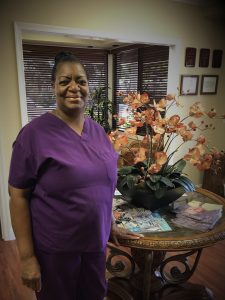 Zemrie Appleton what can we say?
Zemerie is caring, kind and empathetic as the day and night is long!  Her care with clients has made a WORLD of difference!  Some of our area seniors are home bound and do not have the community exposure they used to have.  They have tried as best they can to stay independent on their own and in doing so lose their independence.
When help arrives, be it through their own decision or family's decision, it is very hard for some to acclimate when care becomes a necessity.  Zemrie had managed to care for the most difficult clients and in doing so has brought them back to that wonderful person they used to be when they were independent and on their own!
We have seen clients do an about face in a matter of weeks when Zemrie is on the case!  Praise from clients is the most valuable referral and Zemrie is praised by each and every client  we refer to her.  Thank you Zemrie for taking extraordinary care of our clients, we love you to the moon and back!